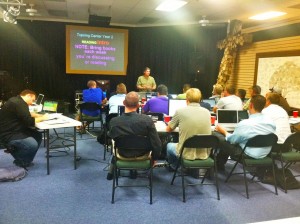 Purpose
The Training Center is designed to enable any local church, committed to the authority of the Word of God, to fulfill and put into practice 2 Timothy 2:2, "And the things which you have heard from me in the presence of many witnesses, these entrust to faithful men, who will be able to teach others also."
Goal
The Training Center desires to fulfill 2 Timothy 2:2 by training men as future pastors, elders, missionaries, church planters, and leaders who will be used of God in local churches for God's glory, emphasizing Ephesians 3:20-21, "Now to Him who is able to do exceeding abundantly beyond all that we ask or think, according to the power that works within us, to Him be the glory in the church and in Christ Jesus to all generations forever and ever. Amen."
History
The Training Center began at the birth of The Master's Seminary. Chris Mueller was asked to teach senior theology, an ordination preparation class that covered the entire bible, theology and practical theology. To graduate, students were required to pass this class.
The basics of this seminary class became the foundation for training men in the local church. Chris built upon this teaching to train men through local church mentoring, involvement in shepherding others and focused study to equip men to function as true spiritual leaders within the church.
Though functioning in part for two decades, in 2002 the Training Center was officially implemented at East Valley Bible Church with an inaugural class of 24 students from a variety of ministries within the church and churches in the area. Since that time, over 50 men have completed the first year and over 34 men have completed all three years. It is the passionate desire of the elders of Faith Bible Church to use the Training Center (along with The Master's Seminary) to train men of God for ministry around the world.
Leadership
Chris Mueller has served in pastoral ministry since 1975. He served as a youth staff member under Chuck Swindoll at Evangelical Free Church in Fullerton, California. At Grace Community Church in California, he served as a pastor to junior high and college and as a pastoral assistant to John MacArthur. He has functioned as a senior pastor for eleven years in Washington state and in conjunction with his other ministry involvement, has served as an adjunct professor at Talbot, The Master's, and Phoenix Seminaries over the past 25 years. Chris's strongest passion is to preach God's Word, lead Christ's Church and train men for ministry, and he is fulfilling this calling as the teaching pastor of Faith Bible Church and point leader of the Training Center. He and his wife, Jean, have two grown sons, Matthew and Daniel, and a sweet daughter-in- law, Danielle (married to Matthew). They reside in Winchester, California.
Program
A three-year program running September through early June, Training Center students meet for one single three-hour classroom gathering each week. Classes are primarily scheduled from 4:00 – 7:00pm or 7:00 -10:00 pm so that men can attend following work. Outside study, reading, writing, and class preparation will require an additional 3 to 12 hours, depending on the class year of the Training Center and the students themselves.
Year 1 = THE WORD
Intense study of the entire Bible, all theology and practical theology with a focus on real life ministry and heart-driven service within the church.
Year 2 = THE SHEPHERD:
Introduction to preaching, teaching, expositional Greek, exegesis, study, expositional theology, discernment in reading and leading, counseling, pastoral care, eldership, shepherding, training men, leadership, purpose, calling, weddings, funerals, finances, and more.
Year 3 = THE LEADER:
Setting direction, philosophy of ministry, leading change, sending and being sent, advanced teaching, preaching and exegesis, and your unique purpose in God's work for God's glory.
Pr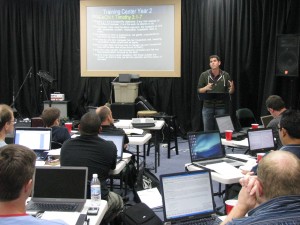 ocess
The weekly three-hour gathering is more than just class time, it is a life-on-life mentoring process involving every student as they share with each other and help shape one another's lives. The learning process is integrated, harmonizing the teaching topics with the reading topics to formulate discussion over key issues of ministry. The training is church-based, led by a pastor, and uses other pastors to give input at every level of the training process.
Approach
The Training Center recognizes the value of a seminary education and yet, many men cannot attend seminary. Therefore, the Training Center focuses on equipping the man of God with the various tools he will repeatedly use in everyday ministry. For example, the Training Center teaches an exegetical Greek, not a grammatical study of Greek. This enables the student to learn how to determine the author's intended meaning of any text using the many Greek tools available today. The Training Center focuses on developing a character that is honest, a commitment that is passionate, an understanding of Bible content that is alive, and developing communication skills that are practical, accurate, clear and engaging. Also, because Jesus said in Luke 6:40b "everyone, after he has been fully trained, will be like his teacher," the Training Center believes that future pastors and elders are best trained by experienced pastors and elders who serve in local churches.
Participants
The Training Center of Faith Bible Church is committed to coming alongside churches in southern California and provide pastor/elder training to "elder-approved and elder-sent" men. Our desire is not to train men solely for FBC, or to function in churches like FBC alone, but to train men for usefulness in any solid church. We require each man sent from a local church to have an elder or pastor accompany him to his training day at least one time per month. This assures that the training process becomes an extension of each church, assisting each body in fulfilling 2 Timothy 2:2.
Requirements
Men desiring to be a part of the Training Center must have:
A strong desire for pastoral ministry.
The fruit of changed lives already proven from their existing ministry.
The approval of their senior pastor and elder team.
The gift of preaching, teaching or the ability to teach clearly established.
A signed contract and application filled out by the end of May in order to start in the upcoming September.
NOTE: Classes are limited in size; therefore, it is best to apply early. Contracts and applications can be received in January for the September start date.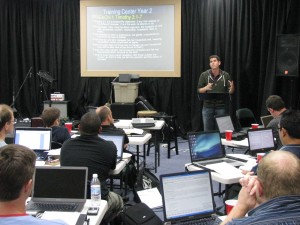 Costs
The Training Center involves a great deal of time spent in class, in study, in special Saturday Training Days (four times per year), and attending an annual pastor's conference. It also involves the direct involvement of a pastor or elder from the sending church. Students with demanding jobs or uncertain travel schedules, those who know they will miss more than three class sessions a semester, or those not affirmed by their pastoral leadership need not apply. Leadership teams who are not able to have an elder or pastor attend with their student at least once per month, also need not apply.
The Training Center is a non-profit ministry of Faith Bible Church to our church and the local church community. For budgeting purposes each year, the total cost for the Training Center can range between a total of $1000 to $2000 for both semesters. This is broken down into class costs, conference costs and the cost of the Logos Software system (for second year only).
The cost of the books, manuals, resources, and special training sessions is approximately $500 per semester, depending on the year in which the student is enrolled. (All books, printing costs, etc. are included.)  Along with the cost of class, each year every student is required to attend one pastor's conference with the other Training Center students of their class. The dates are known early and total cost for each conference is approximately $500-800 for food, travel, conference fees and housing. In addition, year two and year three students are required to purchase and install the Logos Scholars edition software program, preferably on a laptop computer for mobility. The Logos program is a one-time cost of roughly $500 through FBC sources.  Additional upgrades and resources for Logos are up to the student's discretion and desire.
Each semester, funds for the books, manuals, training sessions and resources are collected on the first day of class in September and January. Funds for the pastor's conference are paid by each student at the time of registration. Information for purchasing the Logos system will be provided in class, and payment will be required upon purchase of the system.
How to Apply
Contracts and applications are available on Sundays at the Info Table.